Our values
Our objectives are based on clear and solid values: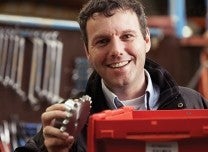 Tradition and Innovation
These are not contradictions, but two values that work together well at Kramp. For more than sixty years, we have been developing ideas and searching for new ways to simplify the work of our customers. That is reflected in numerous services, designed to meet expectations, but we also offer concrete added value. Our key targets include ensuring ease of ordering, efficiency and sharing our expertise. We want our dealers to find the product they are looking for with a few clicks of the mouse. We achieve this with our comprehensive and easy to use web-shop.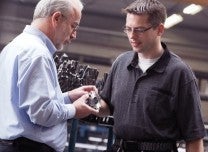 Commitment
We are committed to the success of our customers across a wide range of business sectors. We offer: services for the workshop (such as scan-to-mobile), technical services, training, education and continuous development, as well as a sophisticated retail service to support our customers from the outset with planning and setting up their own shops.
Our motivation and our principles are perfectly in tune with our Kramp values:
Customers first
Engaged
Together
Entrepreneurship