Our philosophy is what sets us apart
Our mission is your advancement
Moving forward, always a step ahead, thinking outside of the box, excelling: this spirit of commitment is what our customers appreciate. This approach has also ensured our success — for over 60 years. To continue this success and to be able to grow further, we're looking for new employees who want to make a difference and move forward. Potential colleagues who are excited about new ways of doing things and want to push the boundaries. We are interested in your commitment, your skills and your personal expertise.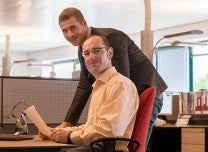 Build the future - with enthusiasm.
Within our ambitious, friendly environment, you can further develop your previous experience. Anyone who contributes ideas and wants to take on responsibility, anyone who pursues their goals with passion and team spirit, has a potential future with us. What is more, anyone who decides to work for us generally stays with us. Within our group of companies there are always new topics and opportunities waiting for you — no two days are the same. Promotion is also a high priority for us. We like to fill management positions from inside the company.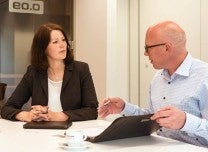 What is important to the individual matters to us
Reconciling the demands of a career and private life is often a difficult balancing act. We take into account our employees' individual life situations and together we identify optimum solutions to ensure a good work/life balance. This approach is applied globally, whether for professional training, the joint organization of specialist and managerial careers or the transition to retirement. We encourage and we challenge: we incorporate each employee into a complete development process, from trainees to managers, applied individually and on the job.
As an employer, we actively promote the right balance between work and life. Flexible working hours and state-of-the-art, occupational health management help you achieve a healthy balance between stress and relaxation.
And the career prospects? Excellent.
Looking for new opportunities, a real mission? Want your next career step to help you get ahead? Welcome, we look forward to receiving your application. At Kramp, sales professionals, e-business specialists, consultants, technical product specialists, logistics experts, technicians and mechanical engineers in particular will be offered a variety of new challenges. A dynamic environment with attractive conditions and highly motivated colleagues awaits.
Whether you are looking for a specialist or management post: find out more about our career opportunities or browse our job board for current positions.
Click here to go to the Job board.